In this blog post, I will show you how I ranked number one in 24 hours using Parasite SEO.
I made a video about how to create a Wakelet collection. 24 hours later, after I uploaded the video and uploaded the blog post, I ranked number one in Google with a featured snippet. And in this post, I will show you exactly how I did it. No secrets.
Check out the previous post about how to create Wakelet collections.
The reason I want to try out Parasite SEO is that I saw a video by Julian Goldie, on YouTube I found very interesting. Julian Goldie will also attend the YACSS SEO Conference 2024. He made a video about Parasite SEO where he ranked number one in 34 hours. I wanted to test this out myself, so I put this to a test. 24 hours later, I ranked number one. Perhaps because my keyword was easier, I don't know. But I tested it to see if this can be done. and as it turns out… it can be done!
That's the first reason, why I made the video about Parasite SEO, the second reason is I want to try out the workflow, Julian used in his video. Because when I'm writing a blog post it takes so much time and effort.. at least if you want a quality blog post.
What I did was: Shoot the video first, use AI to make the transcript, and then upload it.
So let me go into details about my workflow. I made the video and put it into an AI software called Descript. In Descript, you can upload a video and it will take everything you say and make a script for you.
How to use Descript
Go to https://web.descript.com/ start by creating an account.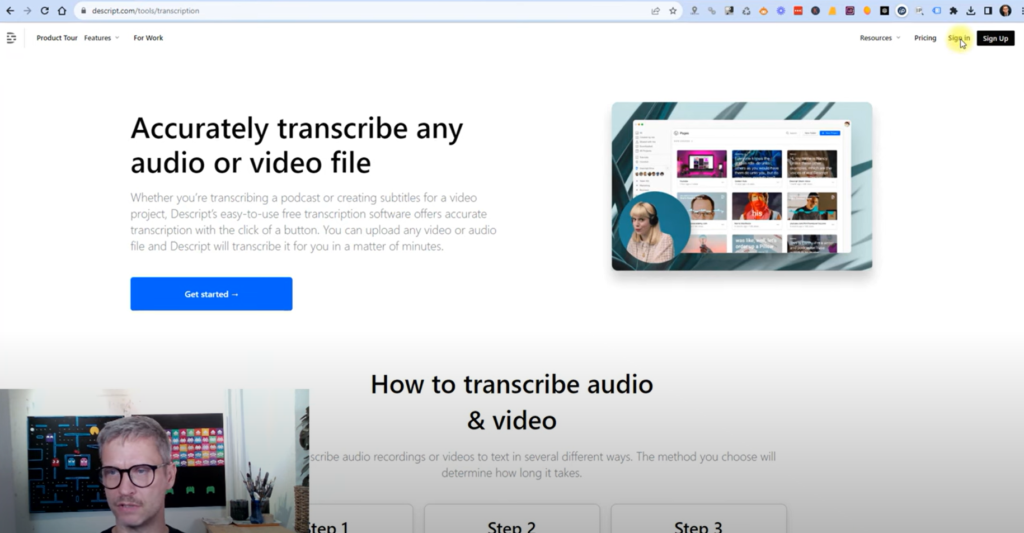 1. Click New
Login to your account and click on the blue button in to your right, to start a new project.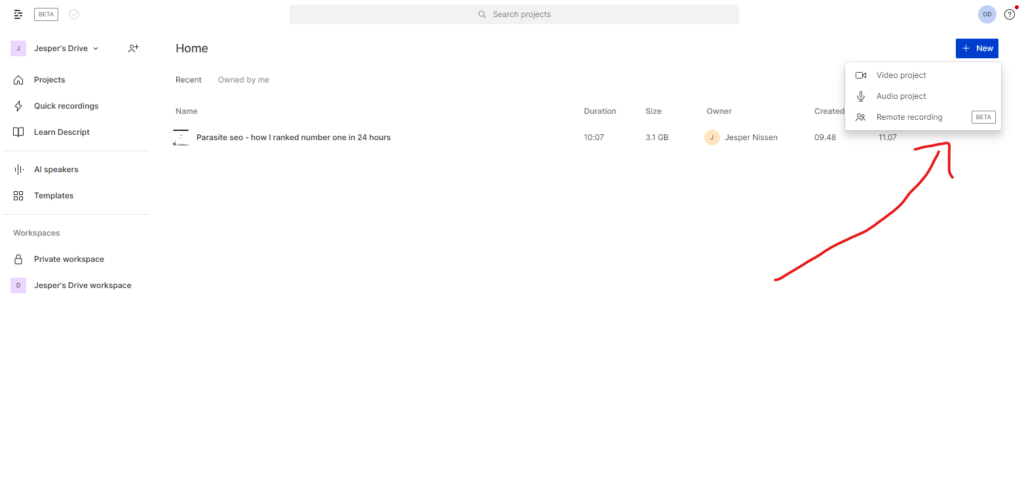 2. Upload the video you need the script from
Upload your video and fill in the details.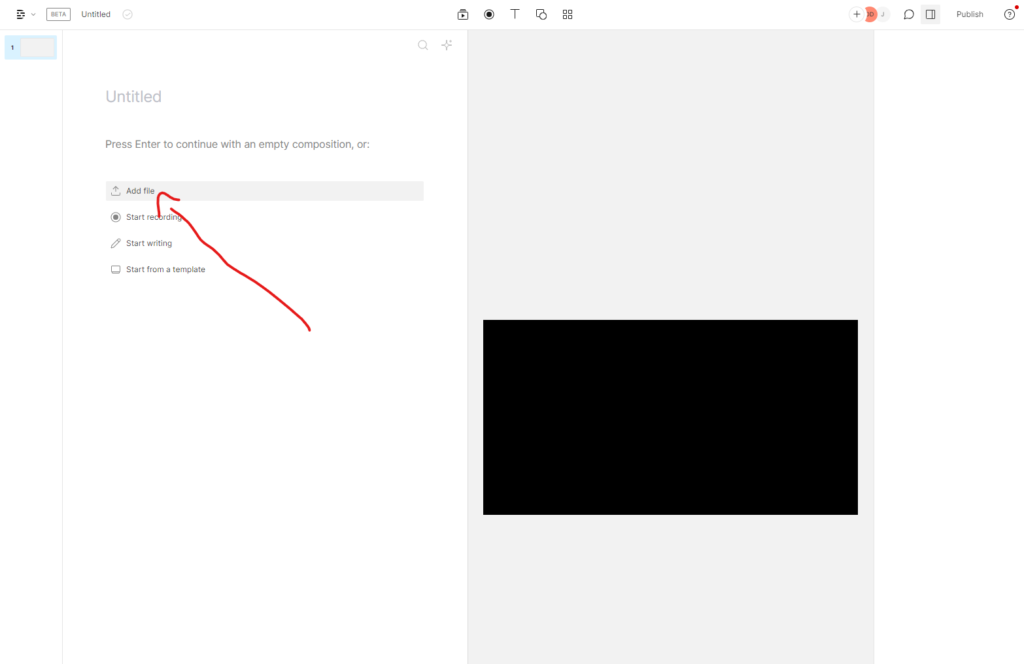 3. Start the process, and wait for the result
It can take a minute or two for the script to be written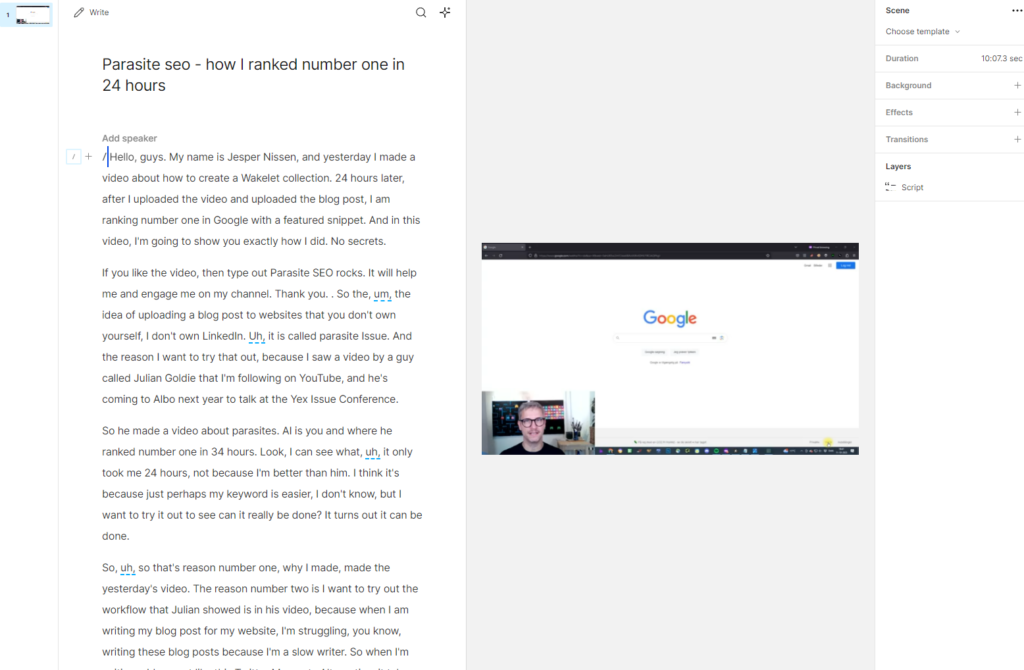 In my example, I have 1854 words, so that's quite a long blog post, and this would take me a full day to write. Of course, I still have to edit this, but this still saves me a lot of time.
Once I finished editing the post, I uploaded the post to my website, I uploaded it to Medium, and I uploaded it to Linkedin.
When uploading the post to Linkedin, it is important to keep in mind, that the H1 should be the keyword you want to rank for. The H1 will also be included in the URL. It's super powerful for especially longtail keywords.
Example of a linkedin post: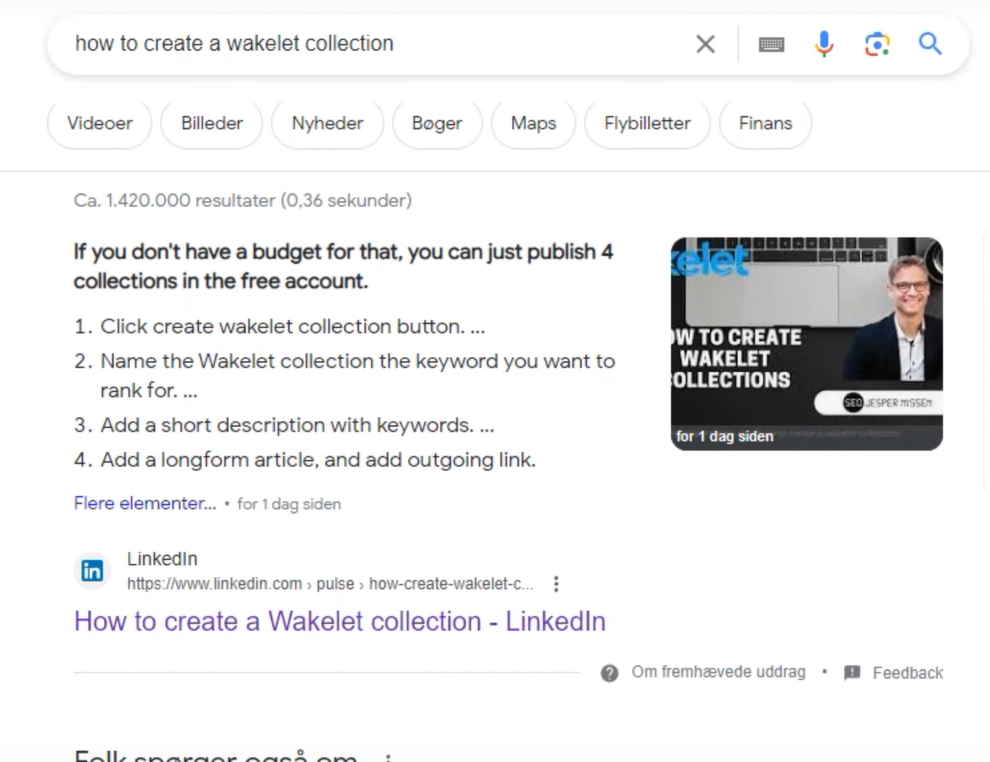 The example above has a page authority of 55, and if you place a link in the post, this will also be dofolow. Not bad at all!
My blog post was indexed
I added the link to my Medium post and my LinkedIn post. And then I uploaded the YouTube video and published the three blog posts. After one hour, my blog post on my website got indexed. As you can see here, this is a screenshot from my mobile phone yesterday. How to create a Weebly collection.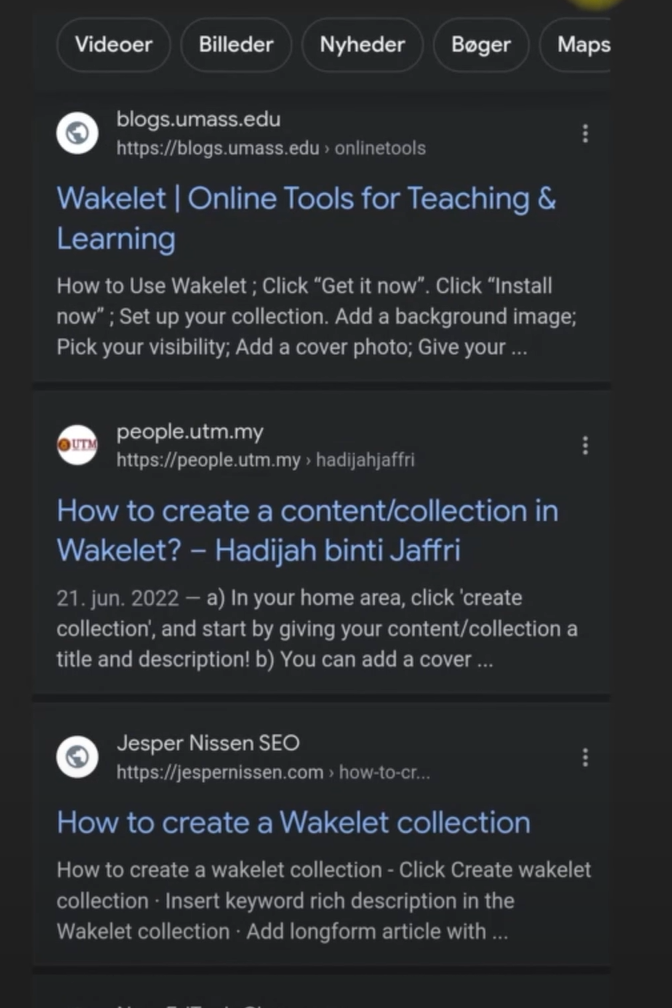 The power of linkedin
Then something interesting happened. I was not ranking number one, but number six or seven. The day after my LinkedIn post was published and got indexed, it switched place with the article on my website. This article pushed my blog post out of the index and pushed itself up to number one instead.
The reason that it happened is, I made a mistake, I put the same content. I didn't make any edits at all. So this is the same content on the Jespernissen.com blog, the Medium blog, and the LinkedIn blog. And then Google decided that the website with the most authority is LinkedIn because this is what's ranking
In the following days, my plan is to rewrite the Medium post, and the LinkedIn post, så the content will be different.
I will keep you updated!