In this blogpost, I'm going to share some tricks, and show you how to create a Wakelet collection.
I'm going to show you some of the stuff that I actually do when I build these Wakelet collections to boost websites and to make these Wakelets rank in Google.
I'm going to show you enough tricks, so that you can actually apply it for your own websites, and get nice boosts in rankings and capture more ranking positions.
As mentioned in the previous blogpost, Wakelet is a free platform, with a paid option. You can check out the pricing on their website. I use the paid account, because it allows for unlimited publishing. If you don't have a budget for that, you can just publish 4 collections in the free account.
1. Click Create
Login to your account, and click the blue button in upper right corner to create a new Wakelet collection.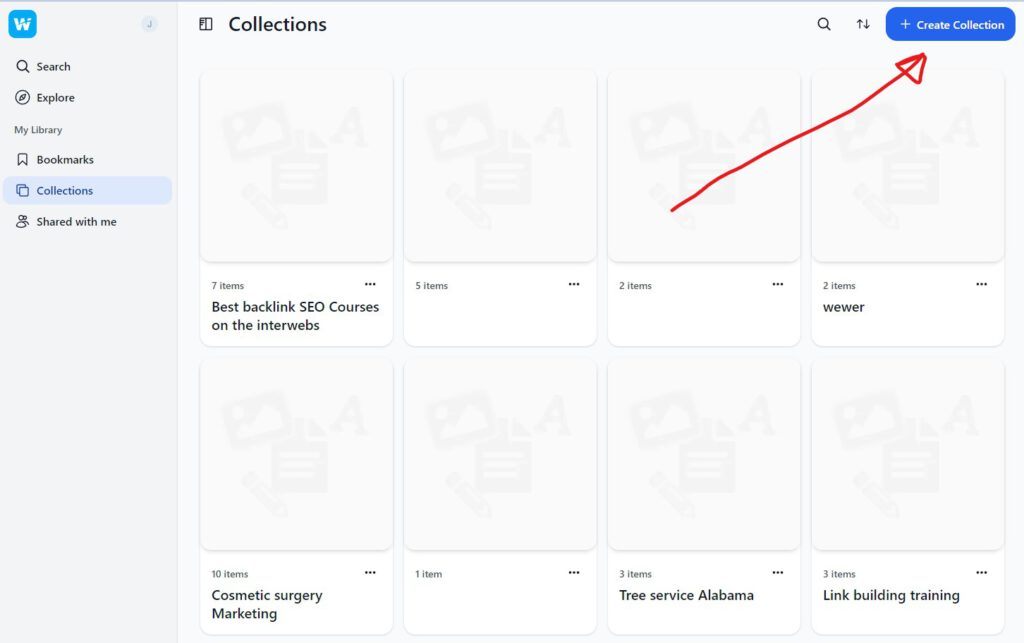 2. Name the Wakelet collection the keyword you want to rank for
First of all, give the collection a title. The title will be displayed in Google when it's ranking.
3. Add a short description with keywords
Insert an awesome description. Write a short description yourself, or use your favourite AI tool to help. I will just use YACSS article generator to produce a short article. The next part is to fill in the rest of the information in the Wakelet, like text, images and links. You can simply paste any web address that you like.

4. Add a longform article, and add outgoing link
The next step is to add a long form article with an outgoing link to the website you are focussing on. Click on the little Add text icon, and popup editor will appear.
You can format this article how you like with headers and subheaders and outgoing links. I typically add an article of 300-500 words. You want just enough content, so that its actually a readable article.

5. Add business NAP in the bottom of the article, copy from GBP
Next step is add business NAP in the bottom of the article copy from GBP. And what I mean by that is I want to use this Wakelet collection as an unstructured citation.
So a citation is a mention of your business on the internet. A non structured citation is a website like Wakelet. It's not intended to be a citation.
What you do is, you search for your business name in Google, and copy the information directly as it's stated in the GBP. The point of doing it like this is that Google is a database and Google needs to have some fields with information in their database that it can actually fill with relevant information.
When you are copying the information directly as it's stated inside of Google, the Google business profile, and pasting it like this here, it's more likely that Google will be able to recognize the business information.
More tricks of this nature will be revealed in my course on advanced linkbuilding.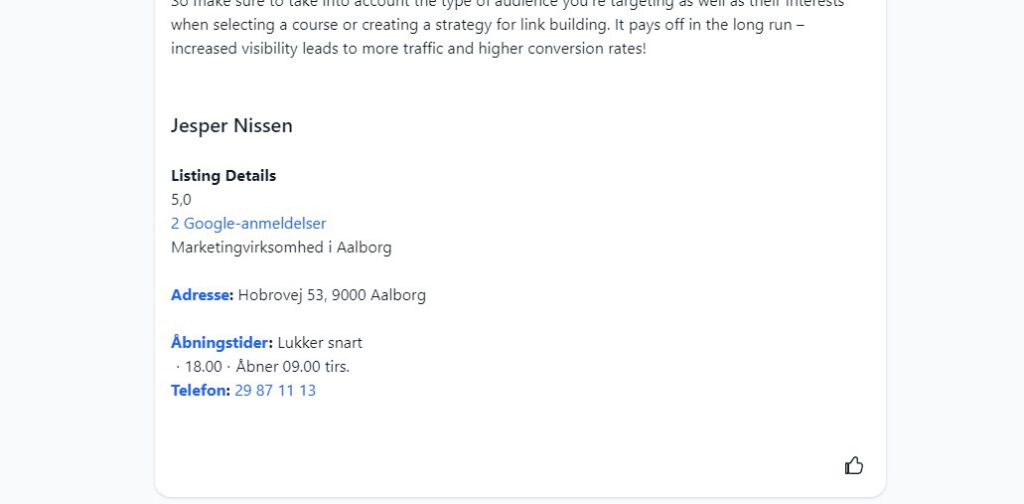 The next step will be to add some links. Wakelet, after all, is a link collection. To benefit the local SEO signals, we add the GBP maps share url, and a couple of other GBP share urls.
Go to Google, and search out the company in maps. Click on this share button for the maps, and go back to Wakelet and I paste the url. For this step, its probably a good idea to watch the video, as this and the next steps are quite detailed and a bit difficult.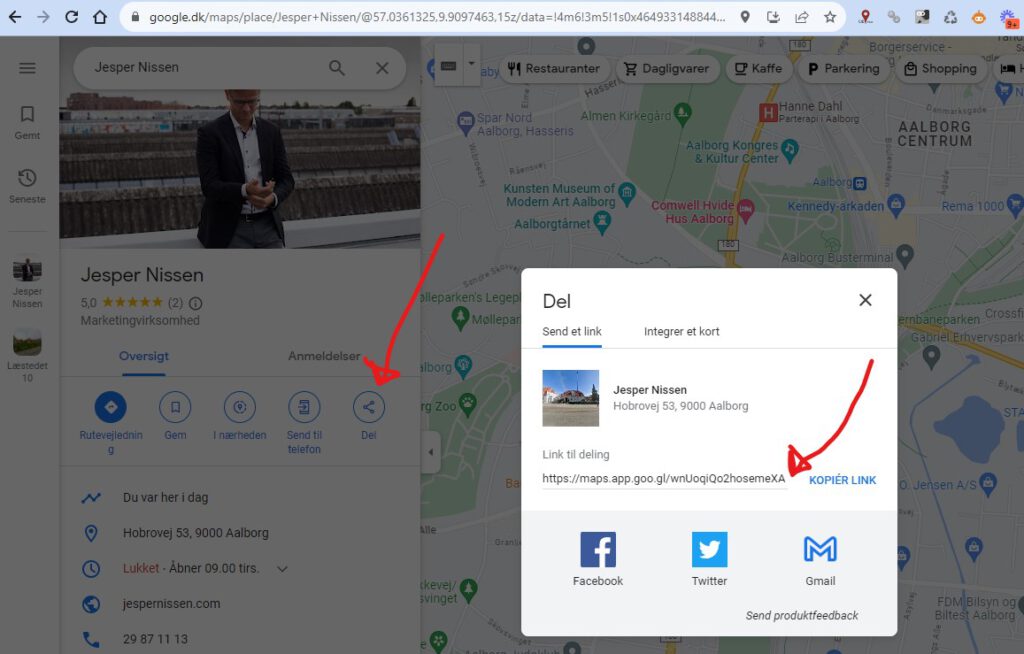 The next is the GBP review share URL. Scroll down to my reviews in the GBP profile, and click Share, and copy the share url. Go back to Wakelet, and paste it. Repeat for as many reviews as you want.
8. Add GBP photo url
This step is sneaky!
This step is sneaky! All the images you upload to the Google business profile are saved on Googles Storage server somewhere. And you can locate the specific url by rightclicking on the image. You can then grab this url, and paste that as a link also. This special trick will bind your GBP profile, with a special Google links. This is particularly effective for boosting the companys brand entity.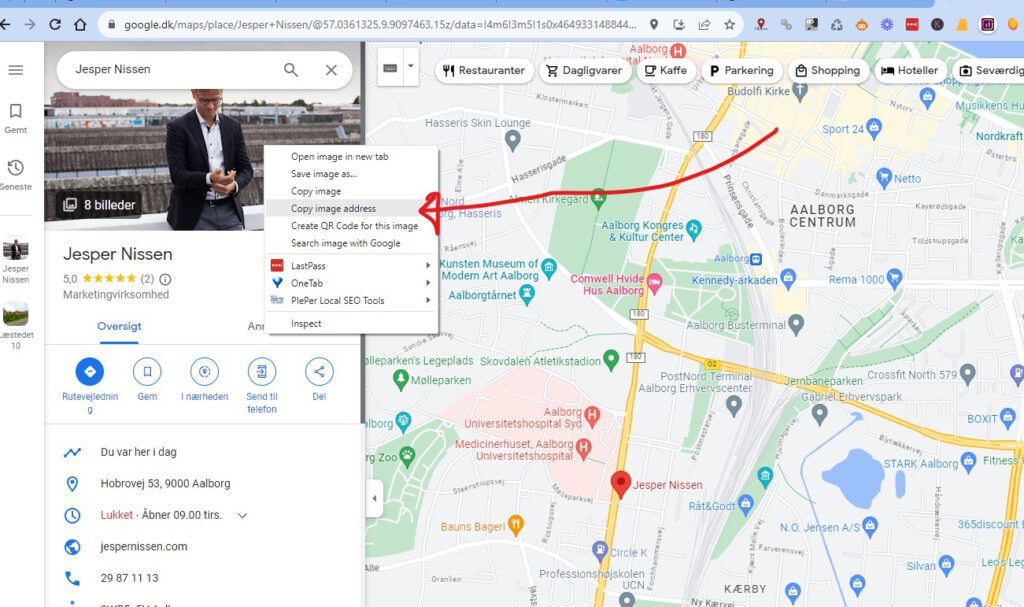 9. Add link to corresponding webpage on your website
This step is simple. Grab the link to your website and paste it into the Link field.

The very last step is to insert corresponding links from your social media like Tumblr. If you have a post from Tumblr, grab this permalink and insert that. Repeat that for all social media thats related to your website.
11. Click publish
Click share and publish in upper right corner. And publish the Wakelet collection. And now it's published, and can be crawled, found and indexed.

12. Assist indexing by sharing in Twitter, Reddit, Quora etc.
The last step is trying to get this Wakelet indexed. What I typically do is share the url to the Wakelet on websites that are frequently crawled. I use Twitter and Reddit, but Quora offcourse also helps.
You get the picture. If you have a Twitter profile for you, your website, or for your clients websites, it's an excellent idea to actually make these Wakelets and then post them to the Twitter profiles, or the Reddit profiles and so on. The Reddit posts will be indexed very fast, and tweets can also be indexed, they will be crawled fast, and they can also index, and it will help on the indexation of these Wakelet collecctions.
This has been the tutorial for how to make a Wakelet collection.